83% of organizations that employ Iot technology have reported a significant increase in business efficiency1
Swittons is an advanced IoT platform that revolutionizes your enterprise digital transformation journey. Place a Switton where you need automation or communication. Each device is customizable and brandable. Brilliant.

Better Time
Management

Better Communication
with staff and clients

Better Decision-Making
and Analytics

Better Everything.
Swittons is different, in a Better way:
Unlimited use case potential
4-button automation
Various models to choose from
Each device can be uniquely programmed
Variety of functions available in each button: text, call, video, or integration with existing systems
RFID authentication capability
WiFi or Cellular connectivity
Powerful backend dashboards and reporting
Battery technology
Customizable branding
SaaS application
Ability to remotely program
Data integrations (e.g. Veeva)
Prebuilt workflows for e-signatures
FCC Certified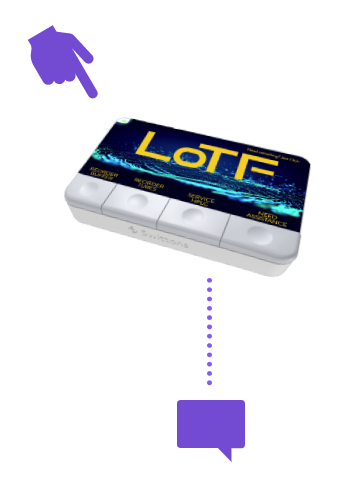 Three Swittons models: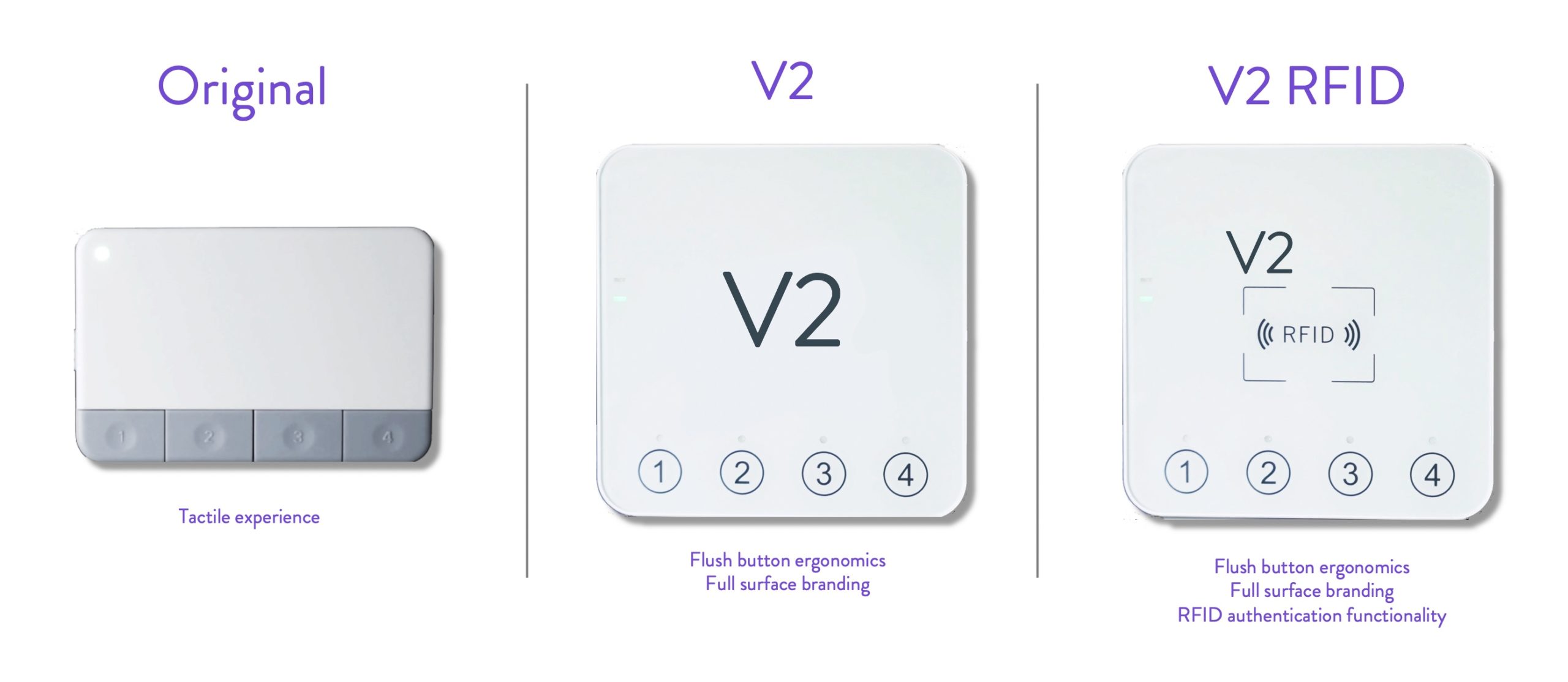 Powerful dashboard and analytics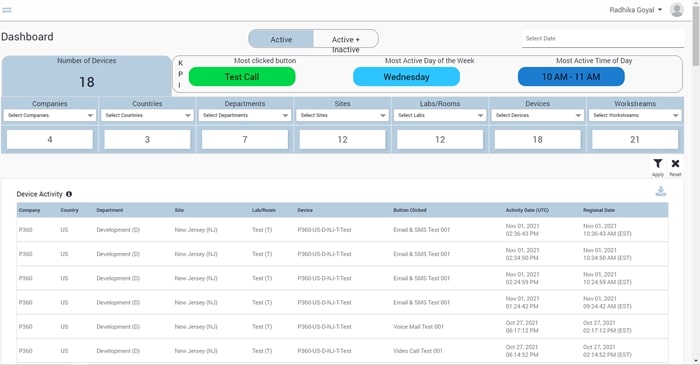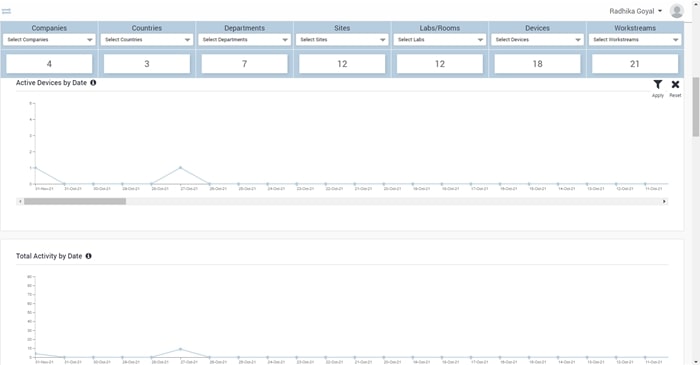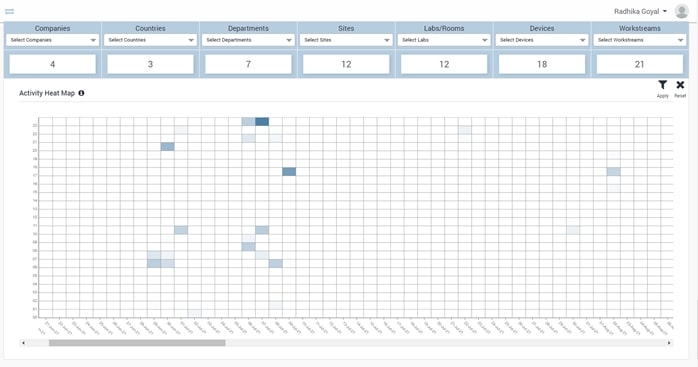 Better behavioral insights. Better, faster decisions. Better everything.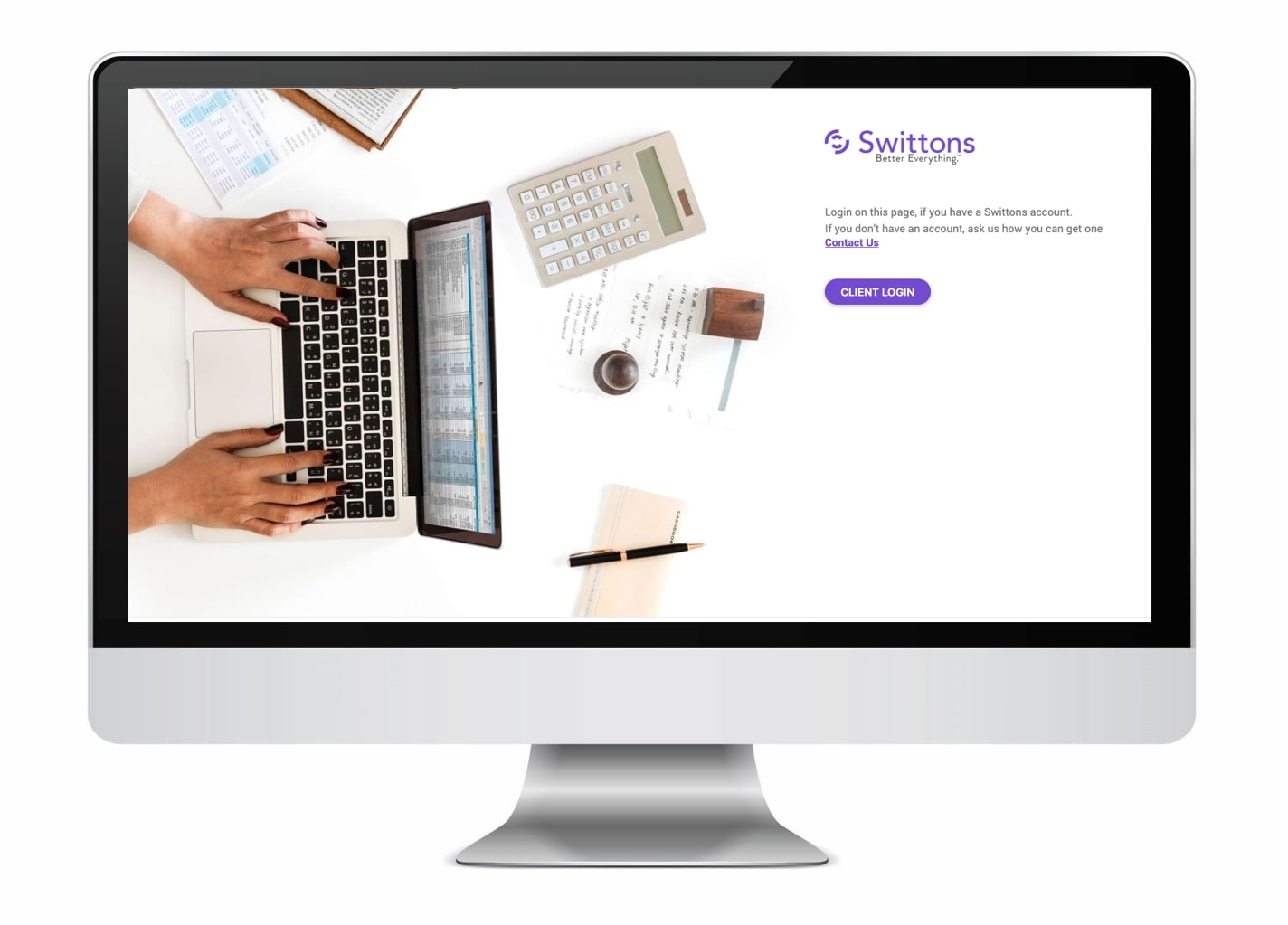 Where can Swittons be used?
Anywhere you have 4 tasks and want better time savings. Here's some common examples: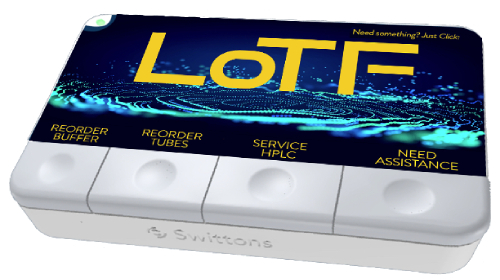 Lab of the Future
Open service ticket
Request equipment calibration
Restock equipment supplies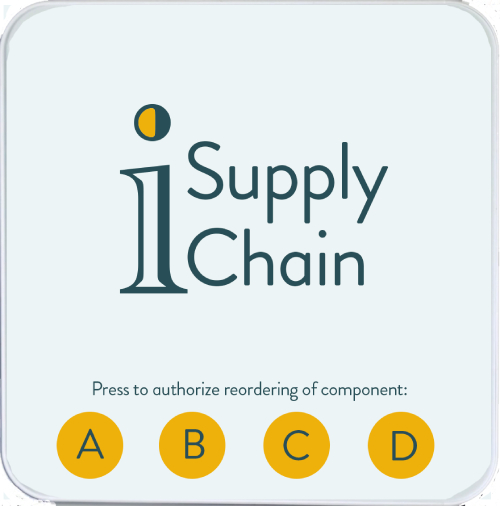 Supply Chain
Reorder or restock various units for manufacturing, labs, even office supplies
Communicate with management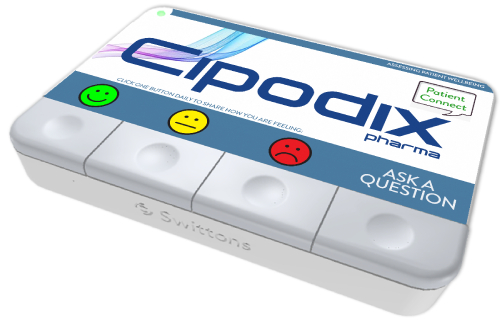 Patient Trial Wellness
Wellness check
Ask questions
Request a call
Appointment reminder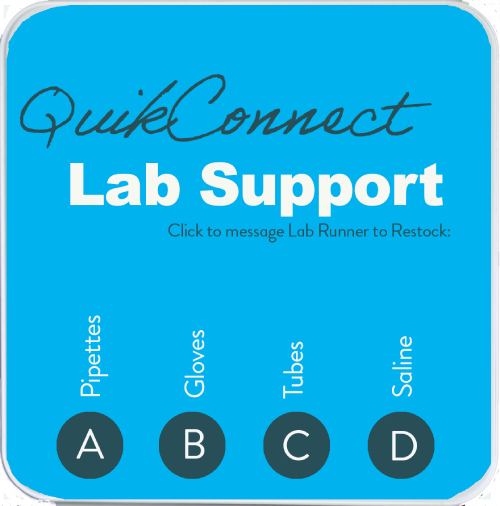 Lab Support
Restock pipettes
Restock gloves
Refill tubes
Restock saline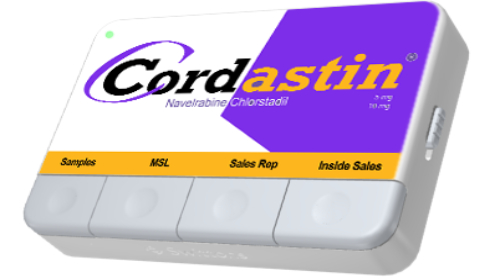 Physician Desks
Request samples
Talk to MSL
Talk to Sales Rep
Request coupons
Remember, each device can have different programming - greater flexibility for you.
What are your possibilities?
Customer Successes
Major Pharma Use Case: HCP Engagement
Pain points:
Reduction in field sales reps, pharmacy substitutions of product
Swittons Goals:
Branding in forefront
Rx lift through workstream automation and attention to brand
Pre-empt pharmacy substitution by creating high-engagement with physicians supporting new patients
Button Labels:
Sales Rep
Samples
Savings Program
Medical Information
The Client is a world-renowned pharmaceutical company, and a leader in several product verticals. The company had a desire to amplify interactions between pharma and physicians and drive further lift within a specific brand due to increasing pharmacy substitutions of higher-dose generics. They initially researched other devices and selected Swittons due to customizability, brandability, reporting and analytics.
Mid-Size Pharma Use Case: HCP Engagement
Pain points:
Downsized entire sales force, needs to maintain PCP audience
Swittons Goals:
Coverage of HCP communication
Lift through automation of basic requests
Button Labels:
Medical Affairs
Availability & Coverage
Product Samples
Medical Information
The Client is a mid-sized pharma company with quick decision-making, strong agility and a trending product. The company wanted to amplify HCP awareness of the product and was looking for automation of their sampling workflow - all of this while staying connected to HCPs with no sales presence in the territories. They selected Swittons to bridge communication by automating the basic requests and branding the devices specific to their drug. During deployment phases, they engaged the HCP offices in creative ways to increase physician engagement.
Major Pharma Use Case: Lab Efficiency
Pain points:
Low efficiency movement of laboratory personnel, reagent ordering, equipment use allocation
Swittons Goals:
Transform laboratories into digital era
Increase efficiencies across reagent ordering, equipment issues, IT requests
Button Labels:
Call Manager
IT Request
Machine Failure
Order Reagent
The Client is interested in increased efficiencies within internal research laboratories. Target workstreams include reagent ordering, communications with manager and laboratory teams, e-triggering of equipment service requests, digitizing equipment availability notifications, possible MS Teams integration for ease of video calling, and others. Swittons is designed to reside in multiple areas within labs, aligned to areas targeted for increased workstream.
How do you design your Swittons?
Identify Locations
Identify Tasks
Select Buttons
Design Label
Voila!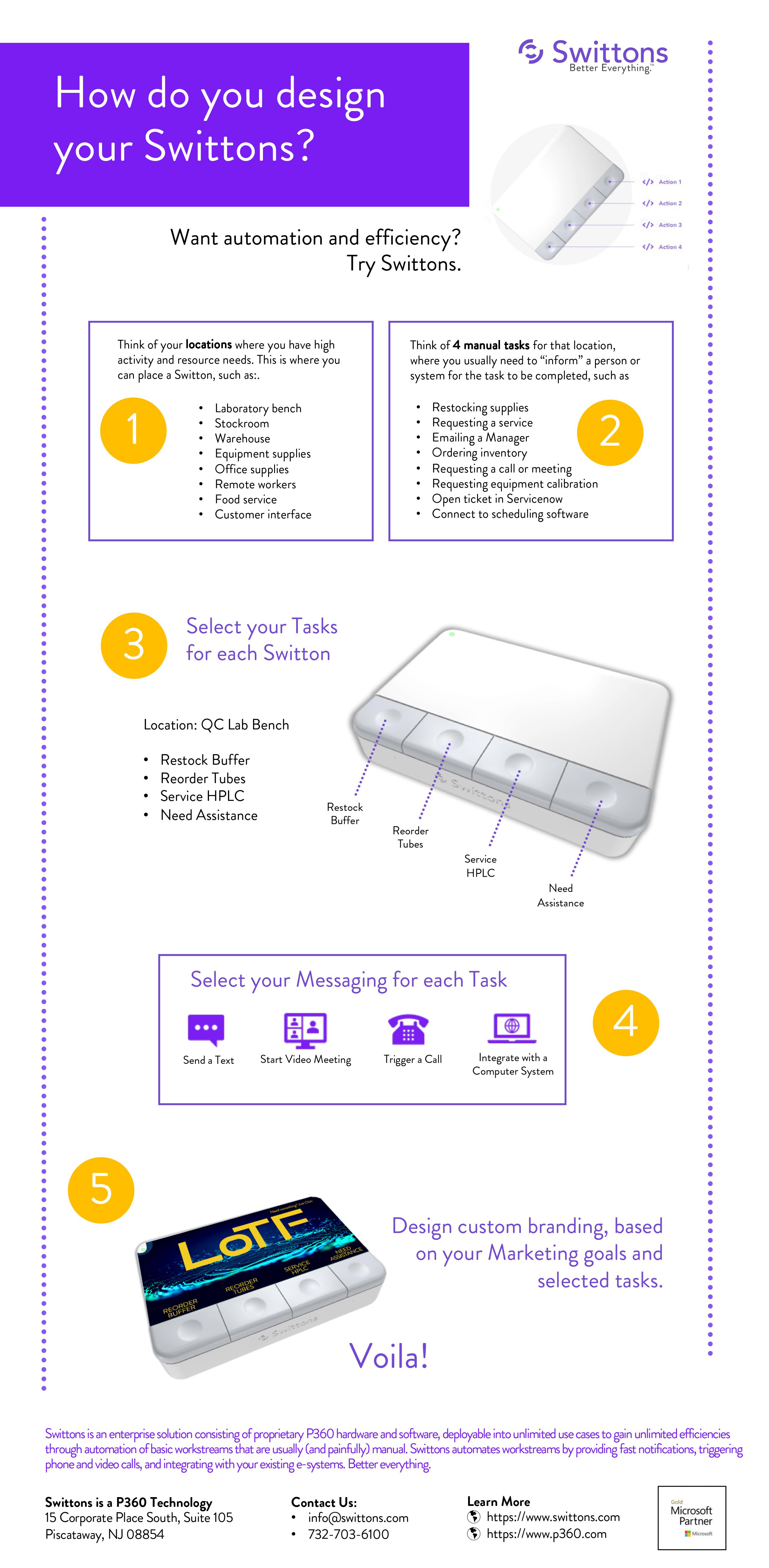 Click to learn how
Want to learn more about P360's other solutions?
References:
1.IoT Heading for Mass Adoption by 2019 Driven by Better-Than-Expected Business Results, 2017, Aruba, a Hewlett Packard Company