Breaking News: P360 Adds Swittons V2 and V2+ With RFID to Its Lineup of Industry-Leading IoT-Powered Smart Devices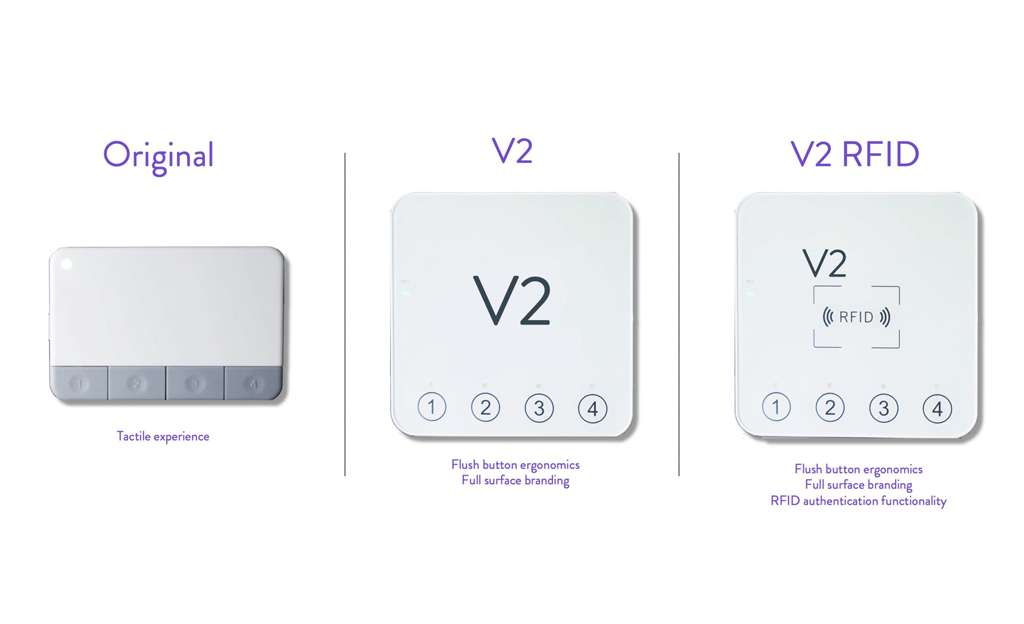 November 3, 2021 | Brian Fitzgerald
We've got some exciting news! Today we introduced the world to our V2 line of Swittons IoT-enabled smart devices. The new Swittons models offer advanced hardware and remote customization capability, as well as Radio Frequency Identification (RFID) functionality as an option.
Swittons technology is a ubiquitous enterprise solution that extends remote ecosystems, provides automations and enhances controls by enabling true human-to-digital workflows. The V2 model features a flat integrated, pressure-sensitive button system—which enables full-face branding for added commercial benefit. The V2+ model contains the optional RFID feature to both authenticate and streamline key processes within service ecosystems, supply chains, customer communication, manufacturing, inventory controls, emergency response and more.
"The new Swittons V2 and V2+ models round out our multimodal, multifunctional IoT platform that delivers efficiencies and automations to key enterprise workflows," stated P360 CEO and Founder Anupam Nandwana. "Coupled with Microsoft Azure foundational software elements, which provide seamless integrations across various systems, the new Swittons packages provide advanced enterprise solutions for companies with multiplexed needs."
Regardless of which model, the Swittons platform can be utilized across several functions within the same organization and can be custom programmed for workstream-specific uses. Of the many use cases, for example, Swittons V2+ with RFID can be used to authenticate and track various assets within manufacturing, supply chains, laboratories, and sales and service operations at the click of a button.
The full lineup of Swittons smart devices has become popular within the pharmaceutical industry to streamline remote physician engagement, lab operations, clinical trials and more by automating frequent requests and triggering communication channels. But the new functionality makes the innovative platform a powerhouse omnichannel, multimodal enterprise application. As such, the new expanded Swittons line can be deployed across several different verticals including retail, manufacturing, healthcare and more. Additional use cases include:
Asset tracking, where Swittons V2+ RFID can be used to scan item ingress and egress flows.
Communication, where at the push of a button the smart devices can trigger notifications, video calls and more.
Supply chain management, where the devices serve as a connecting point to allow for remote communication, instant notifications and restocking of various warehouses (or distribution centers) at the click of a button. 
Inventory control, where Swittons V2+ RFID can be situated at various sites to enable one-touch requests for supplies, products, incidentals and more.
Remote patient engagement and adherence, where the smart devices can help track the administration of complex therapeutics, reorder refills and supplies or alert in the event of adverse reaction. 
Remote Clinical Trials, where Swittons V2+ RFID can help track patient tolerance to innovative new drugs and therapies.
"All of these seemingly independent use cases are actually able to integrate with organization-wide analytics and AI, helping assimilate relevant data to the C-suite," stated P360 Vice President of Commercial Excellence Kimberly Brue. "This enables a true human-to-digital connection within existing enterprise software solutions. Swittons are extremely versatile in that regard, and are only limited by one's imagination."
Each of the Swittons models can be custom branded and programmed to align with specific workstreams and can integrate with existing IT systems and enterprise platforms such as enterprise resource planning (ERP), customer relationship management (CRM), enterprise asset management (EAM), product lifecycle management (PLM) systems and others. A good example is linkage to a ticketing system to trigger equipment servicing needs (with the Switton placed at the equipment point of use). The devices can even trigger phone and video calls via built-in integration with Microsoft Teams and other virtual communication platforms.
Swittons devices come out of the box ready and automatically connect through a Wi-Fi or LTE-M cellular connection. The Swittons platform also features a flexible user portal that includes device usage dashboards and advanced, customizable analytics built in a comprehensive SAS application foundation. Swittons can also be deployed as an OEM component to help value-added resellers connect systems and processes.
More information about each of the Swittons models is available HERE.